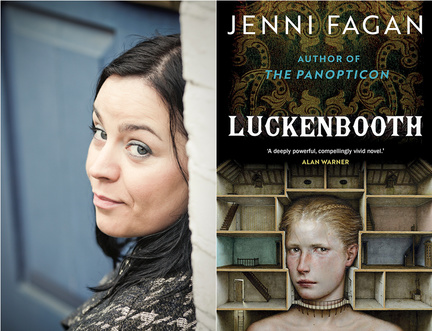 Next Friday 15 January we kick-start our 2021 year-round events programme with the inimitable Jenni Fagan, who celebrates the launch of her ground-breaking new novel Luckenbooth in a special interview with crimewriter and playwright Denise Mina. The event will be free and online – broadcast live – with no need to book. An hour of enlightening entertainment, perfect viewing for a cosy Friday night in!
Luckenbooth is a dazzling work of history and ambition that marks a major moment in the literary life of Edinburgh. The story spans nearly a century in the tenement at 10 Luckenbooth Close. It begins in 1910 as the devil's daughter rows a coffin to the shores of Leith; she's been sold by her father to a rich couple to have their child. The tragic events that follow lead to a curse that will plague the lives of the eclectic collection of tenement residents. In her novel told over nine decades and up and down nine floors, Fagan gifts readers lessons of history as the building and its inhabitants bear witness to the changing world outside the tenement walls.
Jenni Fagan will sign books in person immediately after the event via Zoom. Limited places are available: please book yours when you purchase a copy of Luckenbooth from our online Bookshop.
The event will also be available on demand on our website and YouTube channel until Friday 26 February, so if you can't make the live broadcast there's plenty of time to catch up.
Our thanks to players of People's Postcode Lottery for their support of this event.
Picture by Bill Heaney