Pictures by JON LEINO
Bonnyrigg Rose 1 Dumbarton 1
Saturday 3rd December 2022
cinch League Two
Drawing 1-1 at Bonnyrigg Rose may not have been Dumbarton's initial target – but they were certainly glad to have done it by close of play.
They needed some help to do it, with an own goal drawing them level after Neil Martyniuk's penalty right on half time opened the scoring for the home side.
And it is true that Bonnyrigg had the better of the chances across the afternoon, possibly due to playing in more familiar surroundings on a heavily sloping pitch.
However, with all the issues around player availability, to come away from a tough game a point further clear at the top than they started, was by no means a bad afternoon for Sons.
It may not have been the all-action, free-flowing attacking displays against Elgin City and Clyde, but there were reasons for that.
Gregor Buchanan's absence was not unexpected. But it was a blow to preparations when Ryan McGeever was also ruled out by illness.
And when Stuart Carswell exited the action with a knock at half time, it really looked like being a struggle.
It could have been as such after only a few minutes, when Bradley Barrett shot over off the top of the bar from close range.
Plenty of crosses were being put into the home box, but the keeper remained untroubled until the half hour mark, when Ross MacLean forced him into a fine save.
Barrett tried again for the home side, and Ryan Wallace had a chance for the visitors, but neither could make the best of those opportunities.
Then, a minute from half time, a ball into the box resulted in Brett Long being adjudged to have fouled Barrett in the area going for the ball.
He was booked, Martyniuk had the opportunity to send the home side in a goal up, and he took the chance.
It was a blow, but with the slope in their favour and the attacking options available, there was always a feeling Sons could get back into it.
They just didn't expect it to be a Bonnyrigg player who did it for them. After 59 minutes, Edin Lynch's cross looked like a routine catch for the home keeper.
However, he let it slip from his grasp, it fell on to the equally unlucky Josh Grigor, and the ball rolled into the net.
Each side had pace, movement and threat going forward in the second half, but clear chances were few.
A series of corners for the home side caused some concern, but they were seen out.
With four minutes left, Finlay Gray's shot from the edge of the box certainly had pace, but the keeper saved.
The ball continued to go into the danger area from Dumbarton right to the end, but the final touch was lacking.
The injured parties, who also included midfielder Ryan Blair by the end of play, now have an extra week to return to shape.
Meantime, Sons are four points ahead at the top of cinch League Two.
Bonnyrigg Rose: Andrews; Brett, Martyniuk, Horne, Mitchell (Hunter 86), R Gray, Grigor, Doan, Smith (Hall 81), Barrett (S Gray 75), Connolly. Subs: Weir; Young, Wilson, Khan, Kane. Booked: Barrett, Smith.
Dumbarton: Long; Wylde, Carswell (Lynch 46), Orsi, D Wilson (Love 81), MacLean, Lynas, McKee, Blair (Gray 72), McNiff, Wallace. Subs: Broun; Garrity. Booked: McKee; Long, Wilson, Blair.
Referee: Calum Scott.
A new club tie for our 150th season is now available to purchase from the club shop. You can also have your purchase posted to you for postage costs. Remember the shop will be opening late on Wednesday 7th and Thursday 17th December.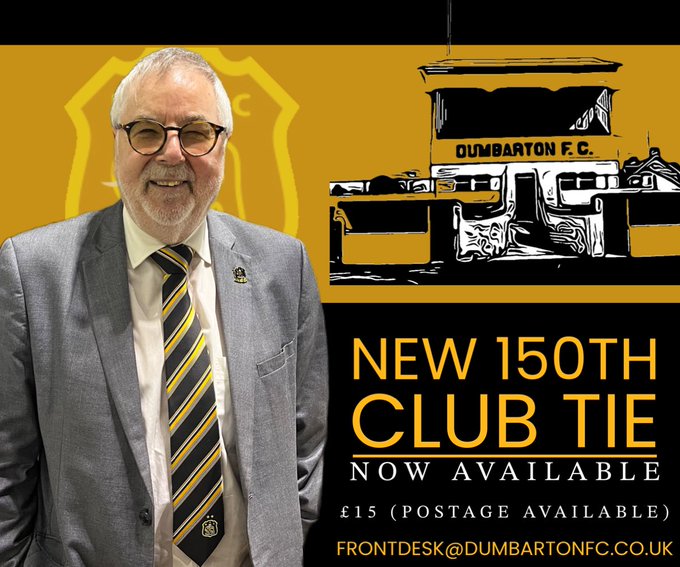 Hospitality will once again be available at our next home game against