11 May 2023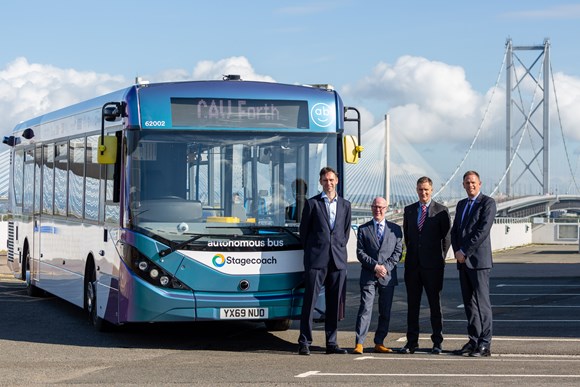 Jim Hutchinson CEO Fusion, Scottish Transport Minister Kevin Stewart, Regional Director Stagecoach Sam Greer, President and Managing Director Paul Davies
Public service to launch on Monday 15 May 
An important milestone for autonomous technology  
Believed to be the first autonomous bus project of this complexity and ambition globally 
Over one million miles of testing completed  
Scotland's Transport Minister Kevin Stewart has joined partners Stagecoach, Fusion, Alexander Dennis Ltd and Transport Scotland to officially launch the UK's first autonomous bus service, AB1, ahead of it beginning passenger service on Monday 15 May.
The Transport Minister was at the launch event at the Traffic Scotland National Control Centre today by Ray O'Toole, Executive Chairman for Stagecoach, as well as representatives from each of the CAVForth partners.
CAVForth, is a collaborative project, comprising of Fusion Processing Ltd, Stagecoach, Alexander Dennis, Transport Scotland, Edinburgh Napier University, Bristol Robotics Lab, and the University of the West of England. It is part-funded by the UK Government's Centre for Connected and Autonomous Vehicles (CCAV).
AB1 is believed to be the first registered bus service in the world to use full sized autonomous buses.
The trial, which will now run until 2025, aims to demonstrate autonomous technology in a real-world environment transporting up to 10,000 passengers per week. During this time, the partners will make improvements and monitor the benefits for passengers, operations and society.
This key milestone in autonomous technology is the result of almost ten years of research and development from Fusion Processing Ltd, with their CAVStar system having covered over 1.8million kilometres in tests.
A fleet of five Alexander Dennis Enviro200AV vehicles will cover the new 14-mile route, in mixed traffic, at up to 50mph across the iconic Forth Road Bridge from Ferrytoll Park & Ride, in Fife to Edinburgh Park Transport Interchange.
The service will have two members of staff on board: a Safety Driver in the driver's seat to monitor the technology, and a 'Captain' in the saloon to take tickets and answer customers questions. The Captain is there to demonstrate what a full-size autonomous bus might feel like in the future, when one member of staff can leave the cab while the computer does the driving, and engage with passengers, much like a conductor would have done.
The recently announced CCAV funding for CAVForth II, sees the project extended to 2025, challenging the partners to extend the route north to Dunfermline City bus station in 2024.
Scottish Transport Minister, Kevin Stewart, said: "It is really exciting to see the innovative and ambitious CAVForth Project take to the roads in earnest after all the hard work of the partner organisations involved in bringing this world first to Scotland.
"We want Scotland to continue to be at the forefront in the development of Connected and Autonomous Vehicles and the start of this live trial will really help the country establish its credentials on the world stage.
"I am excited to see how this technology can help to support our vision for a sustainable, inclusive, safe and accessible transport system."
Ray O'Toole, Executive Chairman  for Stagecoach said: "This is an incredibly exciting time, and we are delighted to see the hard work of all partners involved, pay off on the official launch by Scottish Transport Minister, Kevin Stewart.  
"We are proud to be at the forefront of transport innovation with this project, marking a significant milestone for public transport and we look forward to welcoming our customers on board from Monday."
Alexander Dennis President & Managing Director, Paul Davies, said: "Our participation in this exciting project is testament to the great expertise of our engineering team, who continue to lead technology development for tomorrow's mobility. We believe that automated driving systems like the one we are trialling in CAVForth will further improve safety by reducing reaction times, as well as offering the ability to drive buses in a more efficient manner by optimising acceleration and deceleration to deliver significant energy savings and reduced wear and tear on the vehicle. We look forward to gaining further experience through CAVForth and continuing to develop this promising technology for our customers."
Professor Nick Antonopoulos, Deputy Vice Chancellor and Vice Principal of Research & Innovation at Edinburgh Napier University, said: "CAVForth is a world-leading project, and one we are proud to be involved in. Automation offers an opportunity to transform the ways we get around in years to come, while improving safety and reducing energy consumption. As this trial gets underway, we look forward to contributing Edinburgh Napier University's transport research expertise to understand more about the passenger experience on the AB1 service."
Jim Hutchinson, CEO, Fusion Processing, said: "CAVForth is an exciting showcase of how our CAVstar Automated Drive System can safely operate in a very complex driving environment. This pilot is globally significant and marks a step change in the operation of autonomous commercial vehicles on public roads."