Volunteers – young carers aged between 11 and 16 – on board the Alba Explorer which belongs to Ocean Youth Trust Scotland. Pictures by Holly Vint
By Lucy Ashton
A ship run by a charity which gives young people the opportunity to volunteer on voyages has had to take shelter in Braehead on the River Clyde.
The volunteers – young carers aged between 11 and 16 – are on board the Alba Explorer which belongs to Ocean Youth Trust Scotland.
They have been on the ship since Monday and were supposed to sail around the Isle of Arran and surrounding areas, but last night skipper Holly Vint decided to dock on the Clyde after news of the storm.
She said despite the change in plans the young carers have not been too disappointed.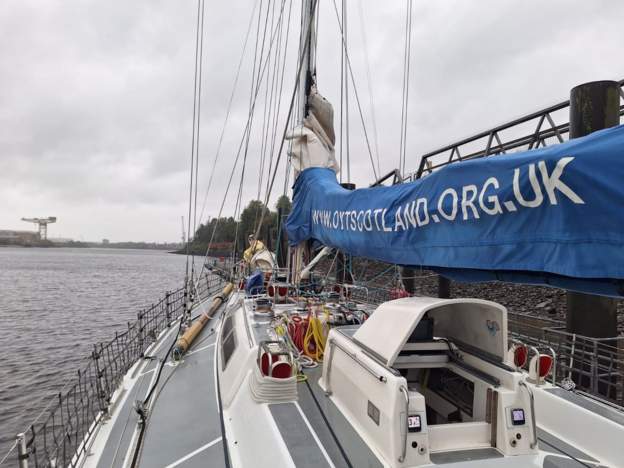 "I think they are quite enjoying this morning being tucked down below warm and dry given how horrible it is on deck right now," she told BBC's Good Morning Scotland.
"It's pretty gusty and actually last night, even though we are in really sheltered waters here, quite a few of us were woken up at various points with the gusts heeling the boat over, so we're very glad to be here and not out at anchor somewhere.
The trip was supposed to last until Friday but the skipper said it will probably have to be cut short.
"There's a little window in the afternoon where we might be able to get back to Greenock which is our home dock. They (the young carers) might have to go home a bit earlier," she said.
Top picture: The weather turned really nasty during Storm Babet.