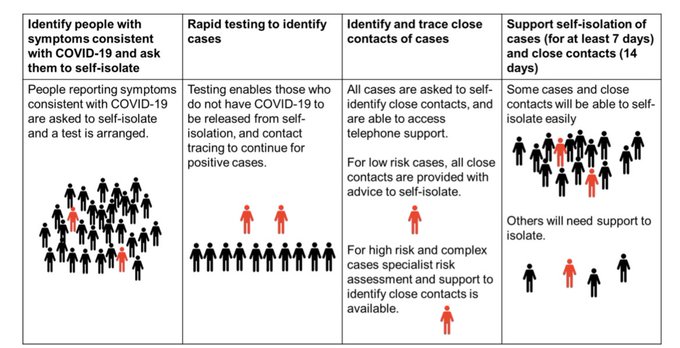 First Minister Nicola Sturgeon today confirmed 12,226 people have tested positive for Covid-19, an increase of 169 from yesterday.
And that 1,720 patients are in hospital with a suspected or confirmed case (up 54), with 99 being treated in intensive care (no change).
Approximately 2,780 people have been discharged from hospital after receiving treatment for the virus since 5 March.
A further five people who tested positive have died, taking the total to 1,576 deaths in Scotland by that measure.
Ms Sturgeon reiterated that death registration tends to be lower at weekend so this figure may be "artificially low".
She announced that the Scottish government has published its virus tracing strategy, Test, Trace, Isolate, Support.
It says this strategy, alongside other interventions, is likely to remain in place until a vaccine is developed.
Nicola Sturgeon said the review of the current lockdown measures must take place by Thursday.
"I have said already that it is very unlikely that any change this week will be possible.
"Although we're making real and significant progress, and that is definitely the case, the numbers still being infected by the virus and the all important R Number remain too high right now to make any meaningful change, without risking the virus running out of control again."
The first minister said care home transmission remains a significant challenge.
"It is very likely that on Thursday I will be asking you to stick with lockdown for a bit longer."
She accepted this is really hard and people want to see light at the end of the tunnel.
Ms Sturgeon said that, building on the framework paper published a week and a half ago, she wants to share work being done to make changes to the lockdown as soon as possible.
She wants to outline the approach when Scotland can move into the next phase: the Test, Trace, Isolate approach or TTI in short.
That involves anyone who has covid symptoms immediately isolating themselves, quickly getting a test and sharing details of the people they have been in contact with.
Professionals called contact tracers then get in touch with those who have been in contact advising them to isolate for 14 days.
If any of them get symptoms, they get tested and the process starts again with their contacts.
Ms Sturgeon said the Scottish government has just published a short paper on the strategy: Test, Trace, Isolate, Support.
The first minister said the approach will only work if the public do what the government asks of them.
She added that a successful TTI approach depends on suppressing the virus as much as possible.
And that TTI on its own won't keep infections down; it will have to be combined with physical distancing, and hand and respiratory hygiene through face coverings.
People will have to recognise symptoms, isolate, contact the NHS and reveal contacts they have had.
"For all of us it will mean having to be prepared to isolate for 14 days if we are told we have been in close proximity to someone with the virus," she said.
The first minister said being isolated may occur multiple times causing major disruption.
Ms Sturgeon stressed preparations are being made to allow the delivery of an enhanced TTI approach at the beginning of this month.
This would mean more testing, with an estimate of 15,500 a day needed to support TTI, she pointed out.
An 2,000 additional contact tracers will be needed, and a digital system will be put in place to make as much of this process automated.
The first minister said a proximity app would operate on bluetooth and it would alert anyone who has been in contact with you if you have symptoms.
The UK government is working on this app and in Scotland it could enhance the TTI approach, but the whole system will not be built around the app.
Its success would rely on high take up by the public, which would rely on the confidence of the public.
"We will increasingly hear about TTI in the coming days and it will be an important tool to get some normality back into our lives," Ms Sturgeon said.
The first minister asked the public to take the time to read the paper and stick to the lockdown.
Ms Sturgeon said: "What I'm asking you today is please make sure we keep that light at the end of the tunnel on and let's all keep making sure that it gets brighter with every single day that passes. "Please don't risk extinguishing that light by easing up too quickly."