NHS staff facing 'perfect storm, says Professor'
Prof Jackie Taylor said a "coherent strategy" for testing staff and all hospital patients was needed.
She also called for more flexibility for under-pressure services to be able to reduce non-urgent procedures.
The Scottish government said plans were in place to deal with peak demand.
Professor Taylor, who is president of the Royal College of Physicians and Surgeons of Glasgow, told BBC Scotland there needed to be "an open and transparent conversation about prioritisation of work" as winter approached.
Man claims father caught Covid in hospital and died
Royal college elects first female leader
Are infection rates slowing in Scotland?
No rule changes planned before next week
Nicola Sturgeon said at her daily briefing on Tuesday that there were some "encouraging signs" that coronavirus was coming back under control in Scotland.
The first minister said measures around home visits and hospitality taken in September and October appear to be bearing fruit, with the rate of increase in new cases slowing in recent weeks.
The latest 24-hour period saw another 999 positive cases recorded, while the number of hospital patients with a confirmed case of Covid-19 rose by 29 to 1,254, with 92 being treated in intensive care.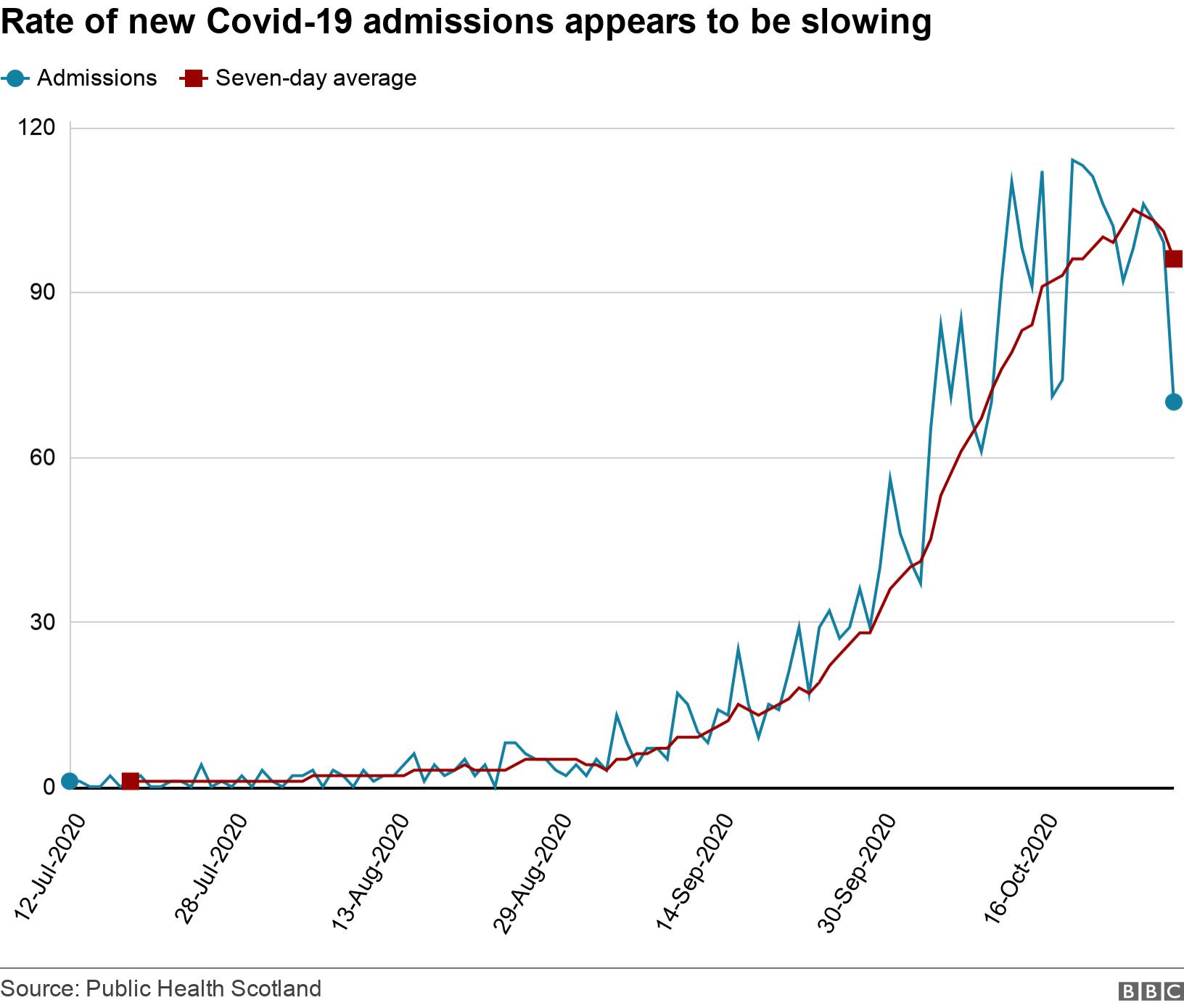 Professor Taylor acknowledged there were "some green shoots which tell us the number of new cases is plateauing" but underlined that the total number of people requiring hospital treatment "has not yet begun to plateau".
"Speaking to colleagues across the central belt in particular and the health boards which have the highest number of cases, we really feel as though we are facing a perfect storm," she said.
"Let's remember the rate of increase may be less steep but at present the number of cases day-on-day are still rising. So we have a significant number of cases, we have a shortage of beds and we have significant staff shortages because of illness and staff isolating.
"Obviously winter is always busier, and we are facing those months now. We are still trying to maintain some elective and other urgent and non-urgent work as well, so it really is a perfect storm."
She added: "My colleagues at the frontline are certainly facing absolutely enormous challenges."
The Scottish government will assess progress on the spread of the virus ahead of a scheduled review point next Tuesday before deciding on any changes to restrictions.
"Clearly we do need to reduce community transmissions," Prof Taylor said. "All the efforts being made in that regard are absolutely right and we need people to stick with 100% of the guidelines 100% of the time.
"We also need permission, where services are becoming exceptionally challenged, to be able to flex the amount of elective and non-urgent work. That will be different across Scotland but certainly services under pressure need to be given permission to reduce some of those procedures and operations."
She added: "There appears to be a disconnect between the experiences of frontline clinicians and the perceptions of health boards. There needs to be an open and transparent conversation about prioritisation of work.
"We also need to try to get on top of infections within hospitals by testing all patients – irrespective of age – at the front door, because many don't have typical symptoms. And we absolutely must get some coherent strategy for testing staff."
Since June, asymptomatic healthcare staff in some specialist wards such as oncology wards have been offered weekly tests.
Concerns were raised several weeks ago that staff in Scotland were not getting results quickly enough, with a Scottish government spokeswoman saying they took just over 27 hours on average when processed within the same health board.
A Scottish government spokesman said: "Our over-riding priority continues to be that the NHS is not overwhelmed in the coming weeks and months. We continue to work closely with all health boards, including NHS Greater Glasgow and Clyde, to ensure they have robust plans in place to deal with a range of pressures on capacity, including Covid-19.
"We can re-purpose approximately 3,000 acute beds nationally as part of our contingency planning, including the ability to double their ICU capacity to 360 within one week, treble to 585 in two weeks and, if required, extend this to over 700, subject to staff and supplies."
He said mutual aid arrangements were also in place between NHS boards to ensure there was enough capacity to deal with peak levels of demand.
"In addition, NHS Louisa Jordan stands ready to help manage any additional demand of Covid-19 patients for hospitals by providing care for individuals who have tested positive, require hospitalisation, but are in a stable condition and do not need critical care," the spokesman said.