By Bill Heaney
The public should be "very worried" about the scale of the financial challenges facing councils such as West Dunbartonshire and Argyll and Bute, a spending watchdog warned today.
The Accounts Commission said local authorities must radically change how they operate in order to maintain and improve the services they offer.
Auditors said budget constraints and cost pressures are putting councils' finances under "severe strain".
Adult social care and housing are among areas of concern, but nearly every local authority has felt the cold hand of austerity on its shoulders.
These areas, along with environmental services and culture and leisure, are where a new Accounts Commission report concludes service performance was "at risk or declining".
A "new deal" between the Scottish government and the country's 32 councils, which is aimed at allowing more long-term planning and could allow new local taxes, is "long overdue", the report adds, but the soaring cost of food, heating and fuel would make that most unwelcome here.
Council services across Scotland have been impacted by financial pressures in the last year — and long before that under the SNP government locally and nationally.
Campaigners have been fighting against the closure of libraries, higher charges for hall and leisure facilities much more.
In West Dunbartonshire families have come out fighting against new moves by the Labour administration to implement detested SNP cuts in transport provision for school pupils.
In some areas of the country, a number of leisure centres and swimming pools are earmarked for closure.
Tim McKay, acting chairman of the Accounts Commission, was asked on BBC Radio's Good Morning Scotland today how worried people should be about the state of local authorities.
He told the programme: "I think we should be very worried because the funding statement is being reduced in real terms.
"As you know, the cost of living is going up dramatically so there is just going to be much less money available for councils to deliver those services."
Mr McKay said councils often made incremental savings when they drafted an annual budget but did not take a "more radical step" and introduce long-term changes.
The Community Party in West Dunbartonshire has suggested that the Council refuse to implement the cuts in services proposed in the recent budget and called them cowards for not doing so.
Mr McKay added: "To some extent they are not encouraged to do that because they only get one-year settlements, typically, from the Scottish government.  So that's why this new deal is so important.
"It won't necessarily put more money on the table, but at least it will allow them to get a settlement over three, five years, whatever to allow them to plan ahead better."
'Open and honest conversations'
Mr McKay would not be drawn on whether Scotland had too many councils and said that was a matter for politicians.
However, The Democrat, which has incessantly campaigned against cuts in council services and the introduction of vanity projects such as the refurb of Glencairn House in Dumbarton High Street, has suggested that West Dunbartonshire needs to bring Helensburgh and South Argyll back under its wing.
And benefit from the revenue of council tax that would result from that.
But McKay emphasised that local authorities needed to have "open and honest conversations" with their communities and staff about how they will operate in the future.
Openness, honesty and transparency are thin on the ground in West Dunbartonshire though, where the Labour council appears determined to continue with the SNP's attempt to gag the media and makes little or no provision for the press in Church Street, where it meets.
Earlier Mr McKay warned failure to address the funding problem would have a negative impact on services and potentially result in "deeper cuts", which is exactly what has happened in West Dunbartonshire where the trade unions have come out strongly against austerity and just last week took their campaign to the steps of the Scottish Parliament at Holyrood.
The Audit Scotland report highlights how 23% of council budgets were ring-fenced or directed for national policy initiatives in 2021/22 – up from 18% in the previous year. This means that if you save money on a social work project you cannot automatically transfer the cash to a schools project.
This type of funding supports the delivery of key Scottish government policies but "it prevents councils from making decisions about how funds can be used at a local level, to meet local need", the report adds.
Analysis by Audit Scotland shows spending on children's services and adult social care has been protected and increased because of Scottish government policy directives over the last decade.
However, the remaining "unprotected" services have borne a "disproportionate level of spending reductions", according to auditors.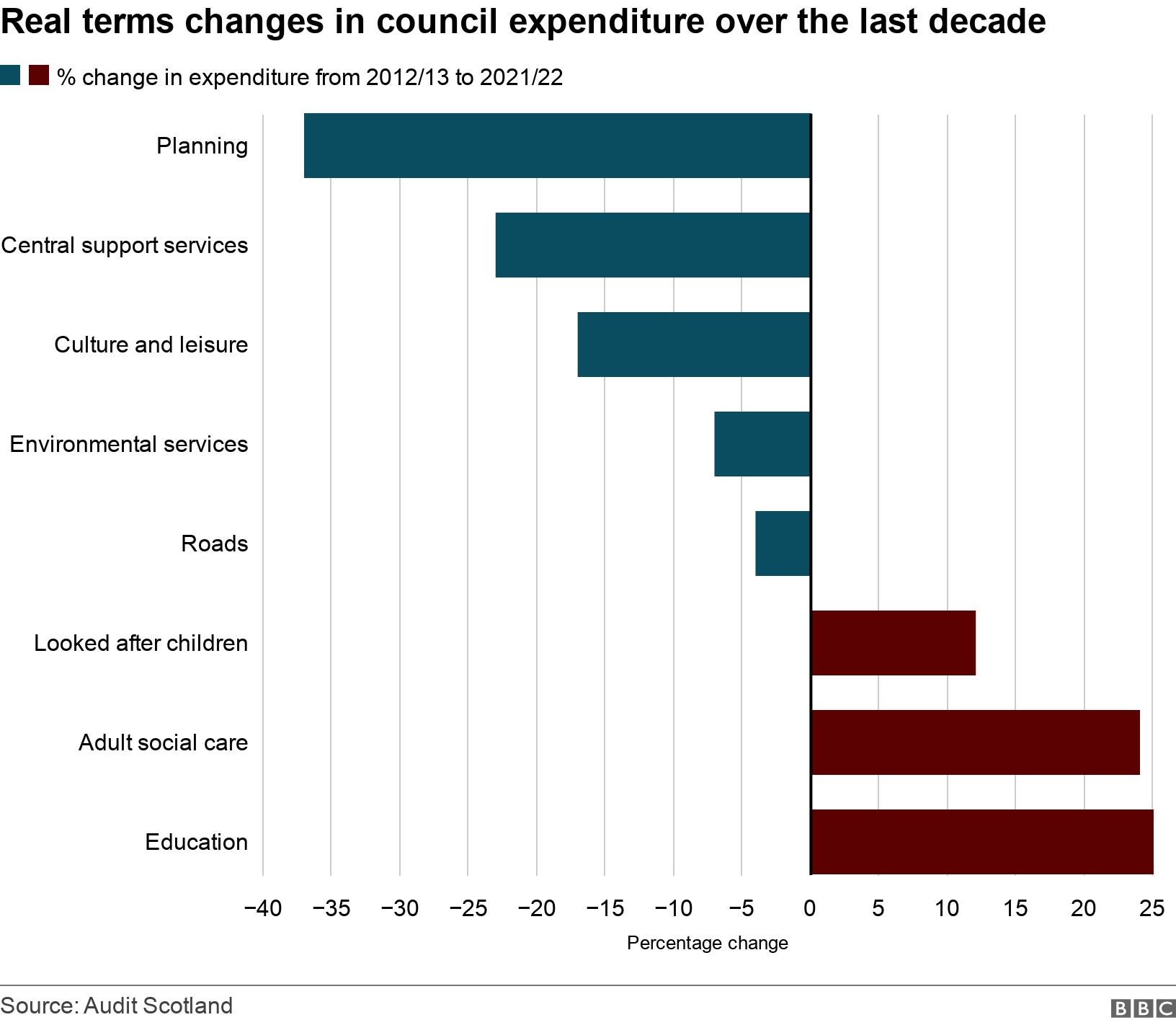 At last, the Scottish government has said it will review all ring-fenced funding as part of the delayed "new deal" for local government.
The Audit Scotland report calls for councils to be more transparent with the public about scale of demand, the extent of backlogs and the need to ration access to services, but that's laughable in West Dunbartonshire's case.
'Increased cost pressures'
It also calls for a more collaborative approach between public bodies, a move which is too late for West Dunbartonshire who tried and failed to establish a relationship on roads maintenance with Inverclyde Council in Greenock. That was a complete waste of council taxpayers' money.
Shona Morrison, president of council umbrella body Cosla [the Convention of Scottish Local Authorities], said this was demonstrated during the response to the Covid-19 pandemic, but it wasn't in that case or in any others which come immediately to mind.
It has been shown in recent weeks that Nicola Sturgeon and the SNP government were all spin and no substance.
She added: "The report also recognises the huge challenges councils face due to budget constraints, increased cost pressures and demand, and increases in directed and ring-fenced funding.
"As we have all seen, increasingly difficult choices are required about spending priorities and service provision, given reducing budgets coupled with growing demographic and workforce pressures."
The Scottish Conservatives said urgent action was needed to avoid cuts to local services that would have a "devastating impact on our most deprived communities and the most vulnerable people living in them".
The Tories called on the First Minister to "come good on his promise of a New Deal for local government as soon as possible".
Scottish Labour said the report "lays bare the scale of the crisis facing local government after years of cuts and centralisation by the SNP and the Greens" and said the government should stop "robbing funding from communities".
SNP local government minister Joe Fitzpatrick said: "We recognise that the work of both local and national government is vital in delivering sustainable public services our communities rely upon.
"That is why the Scottish government is committed to working with Cosla to agree a 'new deal' for local government that promotes empowerment and provides greater flexibility over local funding with clear accountability for delivery of shared priorities and outcomes."
The Accounts Commission's statement that "radical change is needed across Scotland's councils" and calls on the Scottish Government "to urgently finalise" a deal for local government is long overdue.
Scottish Liberal Democrat communities and economy spokesperson Willie Rennie MSP said:  "Local government sits right at the bottom of the list for the SNP-Green Government, and those who bear the brunt are the ones already struggling to make ends meet.
"When local services are cut, people wait longer for care services, children don't get the support they need and cars get damaged by ever-larger potholes.
"Scottish Liberal Democrats want to see that tide of failure reversed. The government must kick start that by scrapping its planned takeover of social care and finally giving councils the help they're crying out for."
Scottish Labour Local Government spokesperson Mark Griffin said: "This stark report lays bare the scale of crisis facing local government after years of cuts and centralisation by the SNP and the Greens. A perfect storm of mounting pressures and dwindling resources has left Councils at breaking point, and lifeline services are under threat as a result.
"The SNP-Green government need to stop robbing funding from communities and work with Councils to deliver a sustainable future for services.
"Scottish Labour's plans to empower local communities would push power out of Holyrood and deliver a fair funding deal so Councils can deliver the change their communities need."