By Bill Heaney and James Cook of BBC Scotland
Progress on Scotland's drugs death crisis is welcome but action is still needed to avoid further avoidable loss of life, Dame Jackie Baillie said today.
The latest drugs death statistics reveal 20 more people lost their lives to drugs in West Dunbartonshire during 2022.
Whilst this represents an improvement on last year's figure of 28, the figures remain too high and entire communities are being left helpless to deal with the damage caused by drugs, the deputy leader of the Scottish Labour Party added.
After adjustments for age, there were still 3.7 times as many drug misuse deaths across Scotland in 2022 as there were in 2000.
Drugs deaths remain almost three times higher than in the rest of the UK.
Since the SNP Government declared the drugs crisis a public health emergency in 2019, over 3,700 drug-related deaths have been recorded, with a further 298 suspected drug deaths to date in this year alone.
Even more shockingly, according to Dame Jackie, in 2022 people living in the most deprived areas of Scotland were almost 16 times as likely to die from drug misuse than in the least deprived areas.
West Dunbartonshire has the fifth highest drug death rate in Scotland while neighbouring Argyll and Bute, which includes Helensburgh, is one of the regions with the lowest rates. There were 13 deaths recorded there in 2022.
Scottish Labour has said that the unequal impact of drug misuse in Scotland must be acknowledged by the SNP.
Dame Jackie added: "The fact that we are still seeing such shockingly high levels of drug deaths in Scotland is a national tragedy.
"That progress is being made is welcome, but for many it will be too little too late. In this year alone, 20 more people have been lost in West Dunbartonshire because of drugs. Each loss will have had an everlasting effect on their loved ones.
"In 2019, the SNP declared this a public health emergency but much of what has been done is simply unpicking the damage of years of SNP cuts to drug and alcohol treatment.
"With drugs deaths in Scotland nearly three times higher than in the rest of the UK, there can be no delay in acting to protect lives.
"We know there is no quick fix to this problem but the SNP need to provide more support for those struggling with drug dependency, invest in services in local communities and tackle the issue at its root."
The official line from the Scottish government is that the number of people who died due to drug misuse in Scotland last year fell by 279 to the lowest level for five years.
Figures from National Records of Scotland show 1,051 people died of drug misuse in 2022. It is the first significant drop following several years of record high totals.
However, Scotland continues to have the worst drug death rate in the UK and the rest of Europe.
Despite the fall in drug misuse deaths, they are still more than three times as common as they were two decades ago.
Opiates and opioids, including heroin, morphine and methadone, were implicated in more than eight out of 10 drug-related deaths in 2022.
The majority of drug misuse deaths were classified as accidental poisonings, with 7 percent classed as intentional self-poisonings.
The rate of drug poisoning deaths in Scotland was 2.7 times as high as the UK average in 2021, the most recent year that data is available for the UK as a whole.
Julie Ramsay, head of demographic statistics at National Records of Scotland, said drug deaths had been rising for two decades, with a particularly sharp increase after 2013.
The latest statistics are the biggest year-on-year decrease since recording began in 1996, she said.
"Those living in the most deprived areas of Scotland are almost 16 times as likely to die from drug misuse compared to people living in the least deprived areas," Ms Ramsay said.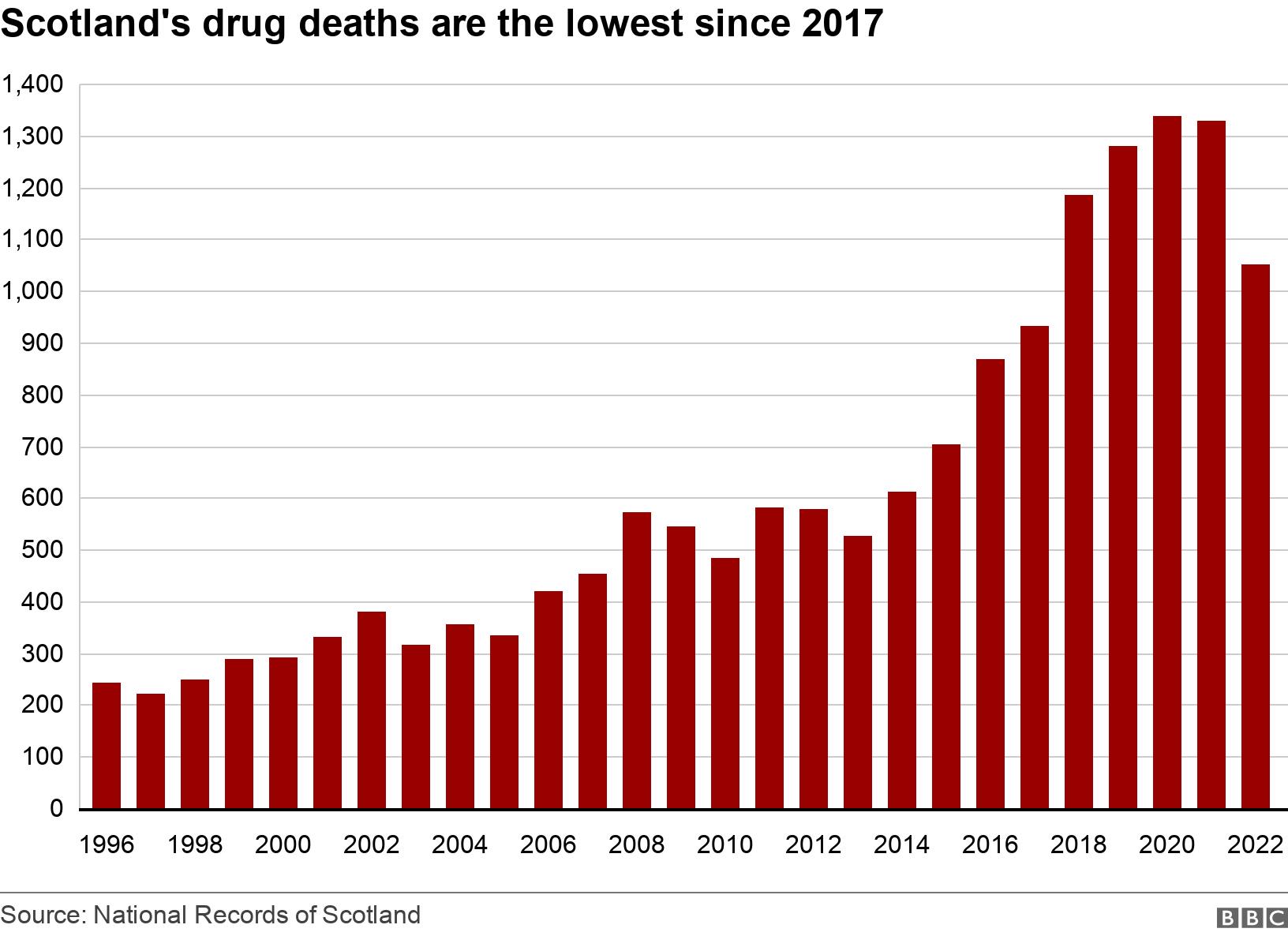 Males are twice as likely to die from drug misuse than females, Ms Ramsay said, and the age profile of drug misuse deaths has become older, now averaging 45.
Over the past two decades, drug misuse deaths in Scotland has increased most years, with the largest rise in 2018.
The highest number of drug misuse deaths on record was in 2020 where there were 1,339 deaths (25.2 per 100,000 people).  The figure for 2022 was 19.8 deaths for every 100,000 people in Scotland.
What causes most drug deaths in Scotland?
The vast majority of drug-related deaths in Scotland are of people who took more than one substance, so-called poly-drug use.
Heroin, methadone and other opioids were implicated in 867 deaths but often in combination with other drugs such as "street benzos".
Benzodiazepines such as diazepam and etizolam can be prescribed for anxiety or insomnia but the vast majority of the 601 deaths linked to them were from illegally obtained drugs.
Experts say high-risk opioid users typically misuse benzodiazepines to self-medicate or increase the effects of heroin or methadone. They also take benzos to treat symptoms of psychiatric disorders, negative emotional states and withdrawal symptoms.
Gabapentin and/or pregabalin – drugs used by doctors to treat epilepsy and nerve pain – were implicated in 367 misuse deaths.  Cocaine was involved in 371 deaths.
Drugs debate – Minister Elena Whitam, Labour leader Dame Jackie Baillie, Conservative leader Douglas Ross and LibDem leader Alex Cole-Hamilton.
Drug policy minister Elena Whitham  said: "While I am pleased to see that hundreds of families have been spared this agony and lives have been saved, every life lost is a tragedy and the number of deaths is still too high."
The minister said she would never underestimate the scale of the challenge they continue to face, including responding to new threats such as synthetic opioids and stimulant use.
Conservative leader Douglas Ross said the latest numbers indicate some progress from an "utterly catastrophic base" but Scotland remains the drugs-death capital of Europe by an enormous and alarming distance.
"SNP ministers have a duty to explain why, in Nicola Sturgeon's words, they took their eye off the ball as this national emergency spiralled out of control and cut money from drug treatment programmes," Mr Ross said.
After the crisis reached record levels in 2021, the Scottish government announced it would be spending £50 million more a year on tackling the drugs crisis.
This includes funding for local alcohol and drug partnerships, as well as grassroots community organisations and improving standards for methadone prescribing.
One of the initiatives is the enhanced drug treatment service – also known as heroin assisted treatment.
At the moment, the service caters to 25 patients who are prescribed diamorphine – or heroin. They then inject the drug under supervision and are given after-care.
The Scottish government also supports decriminalising drugs for personal use – believing this would better develop a "public health" approach to tackling the problem.
The government also aims to provide 1,000 residential rehabilitation beds a year from 2026. It says it wants to spend more than £100 million on improving access, but others say not enough is being done to reach that number.
Responding to the new annual figures showing that they were roughly twice what they were in 2013 when they stood at 527, Scottish Liberal Democrat leader Alex Cole-Hamilton has described the crisis as a "plague of the SNP's own making" and urged the government to finally take radical action to stop people dying.
People in Scotland's most deprived areas are now almost sixteen times more likely than those in the least deprived areas to die from drugs.
Mr Cole-Hamilton commented:    "This is a painful day for many people across the country. Every death represents a human tragedy and a family in mourning.  
"The drug deaths crisis is a plague of the SNP's own making. Eight years ago, with rates rising and records already mounting, Nicola Sturgeon saw fit to slash budgets to drug services, sending organisations to the wall and severing support.
"My party has been calling for the decriminalisation of drug misuse for years. If the Scottish Government is at last serious about reform in this area, this will take detailed work both here in Scotland and in partnership with colleagues across the UK and beyond.
"To finally turn a corner in this crisis, Scottish Liberal Democrats also want to see the immediate introduction of specialist drugs commissions, safe consumption rooms and greater support for both staff and services."  
To stop people from dying, Scottish Liberal Democrats would:  
Establish heroin assisted treatment and safe consumption spaces.  
Establish new specialist Family Drug and Alcohol Commissions to help provide wraparound services and to take a holistic approach to those reported for drug offences, leaning from best international practice such as that in Portugal.  
Divert people caught in possession of drugs for personal use into education, treatment and recovery, ceasing imprisonment in these circumstances.  
Adopt the principle that individuals and families shouldn't have to pay for the care and treatment of those at risk of death from drugs and alcohol.