'It's been very challenging' – Transport Scotland boss
The agency charged with responding to incidents caused by the Amber weather alert says conditions are making it too unsafe to start a clear up.
Dumbarton man Stein Connelly from Transport Scotland told BBC Scotland news that his staff had faced "very challenging conditions".
He said that it was particularly hard in the Argyll and Bute area, where the A815 and the A83 were currently closed.
Connelly said: "It's unsafe for the operatives to go in and clear some landslips that we have had their and so this is going to last for quite some time.
"Reportedly we have had approximately one month of rain in 24 hours so it has been extremely challenging."
He added: "The police message is avoid travel if you can, especially in Argyll and Bute. In the other areas we are saying it's a high risk of disruption."
Quote Message: At the moment with the heavy rainfall it is unsafe to let the operatives go in and try to clear these landslides and that's what gives us an issue." from Stein Connelly Transport Scotland
West Dunbartonshire Council
** Update to below: sandbag supply at depot is now exhausted and distributed to residents. **
Our emergency teams are working hard to tackle areas of flooding due to the prolonged period of extremely heavy rainfall. Please note that Renton Road is currently closed due to flooding.
Sandbags are available to collect from Elm Road depot and members of the Neighbourhood team will be distributing.
Please take care if travelling and consider whether your journey is essential.
Flooding in Dumbarton
Footage has been shared on TikTok showing the extent of flooding in Dumbarton today.
Traffic could be seen backed up as cars slowly moved through a flooded street under a railway bridge.
The video, which was edited with the Titanic soundtrack My Heart Will Go On playing over it, also showed several local residents wading through the water.
Lifeboat scrambled to help stricken Scots ferry
A lifeboat rushed to the aid of a Scots ferry after it lost power in today's rainstorms.
The Royal National Lifeboat Institution Vessel was scrambled just before 9.30am this morning. The UK Coastguard had requested the help of the RNLI on Saturday to assist a ferry that had lost propulsion whilst undergoing sea trials.
The RNLI said the Severn class all-weather lifeboat made best speed to the stricken vessel, around 800m off Kilchoan Pier on the Ardnamurchan peninsula. Due to the size of the vessel, and how close it was to the land, the decision was made to tow it back to Tobermory, on the Isle of Mull.
Man hit by car in Dumbarton during floods
The horror moment when a pedestrian was hit by a car while trying to protect his home from floods has been captured in video footage.
Police have launched a probe after the incident happened on Glasgow Road in Dumbarton at around 12.30pm on Saturday. In the clip a resident can be seen leaving her flat as she begins to film a commotion on the street.
A horn can then be heard beeping before a person screams, as a man is thrown to the ground after being knocked down by a car. The car then stops at a set of traffic lights before the man who was knocked down comes running towards it.
Another eyewitness can be heard shouting "get him out of that motor". The man then reaches through the driver's window and appears to try and strike them as he shouts "you f***ing hit me there, you f***ing hit me". Another man then runs up to confront the driver before he speeds off down the street.
Police warn drivers not to travel in parts of western Scotland
An Amber weather warning is in force in many parts of western Scotland until 0300 on Sunday
The persistent rain has already caused landslips, train cancellations and road closures
The Met Office said areas of the Highlands and central Scotland could see up to a month's worth of rain
The Scottish Environmental Protection Agency say they have "quite significant concerns" for some communities on the west coast
Spokesman Vincent Fitzsimmons: "This is not just a normal wet autumn day. We are concerned about the possibility of significant flooding."
ScotRail has cancelled services from Oban, Mallaig and Fort William, from Helensburgh Central and on the Highland Mainline between Perth and Inverness.
A number of roads have been closed due to flooding and landslides including the A83 between Tarbet and Inverary
Meanwhile, for the south-east England an unseasonal high of 26C was expected
West Highland Way – 'Crazy floodwaters'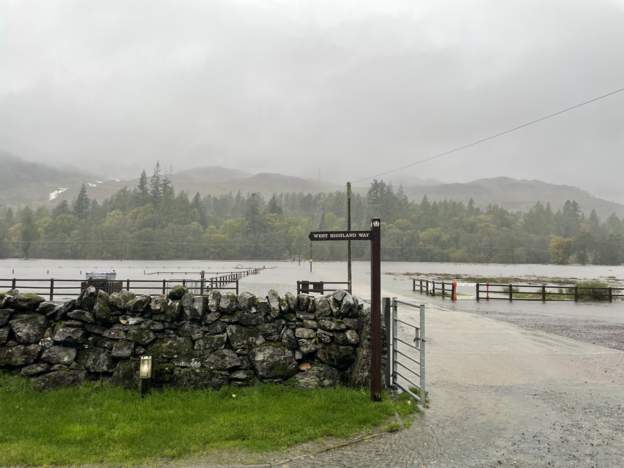 Julie Odell and her husband are currently walking the West Highland Way with their dog and awoke at the Beinglas Campsite in Inverarnan to see "the most crazy floodwaters".
"What used to be a field with a track to the A82 has overnight turned into a lake," she said. "The staff are being amazing. We thankfully are in one of their cosy cabins and not camping but have offered our cabin as refuge to any campers.
"Both are track, and the back roads are cut off by flood water. So nobody is going anywhere today and no taxis or cars can come and collect people either."
She added: "It's a good atmosphere with everyone looking after each other here and the staff say they've never ever seen anything like this before."
Ten airlifted from vehicles after landslides
Ten people have been airlifted from their vehicles after landslides closed two roads in Scotland.
A number of vehicles were stuck on the A83 and A815 in Argyll and Bute and an HM Coastguard helicopter was used to remove them to safety.
Police say there were no reports of any injuries. The roads remain closed and drivers are being warned to avoid the area.
Main Glasgow to Edinburgh train line reopens
The main Glasgow to Edinburgh train line – which had been closed because of flooding – has reopened.
Network Rail engineers had to inspect the line at the Winchburgh tunnel as torrential rain threatened to make it unsafe for trains. It reopened just after 3pm.
But many rail lines in Scotland remain closed. The Highland mainline was shut as water levels on the River Tay reached danger levels. Network Rail said they were particularly concerned about the Dalgusie Viaduct and had put someone in to watch the crossing.
Meanwhile at Dalmuir (below) , the pumps used to clear the line at a section of tunnels were overwhelmed, with waters reaching around the window level of the trains.