Yet another landslip causes traffic chaos at A83 Rest And Be Thankful in Argyll
By Democrat reporter
BBC Scotland News is reporting that the A83 has been closed in both directions in Argyll after a landslip resulted in more than 1,000 tonnes of debris covering the carriageway.
Bear Scotland said a clean-up operation at the Rest and Be Thankful was likely to continue on Friday.
Drivers are being diverted on to the Old Military Road.
It is the latest in a series of major landslips to hit the road and it has led to calls from the local council for a "permanent solution" to the issue.
Argyll and Bute Council leader Aileen Morton, from Helensburgh, pictured right, said the Scottish government needed to make a commitment to resolving the issue "right now".
She said there should be "no more prevaricating and faffing about, no more talking about processes and procedures, no more delay".
The anti-democratic SNP MP for Argyll and Bute, Brendan O'Hara, refused to speak about the ongoing problem to The Democrat.
Transport Scotland said the government has invested £13.3m in landslide measures at the Rest and Be Thankful and the Old Military Road since 2007.
A spokesman said the measures helped keep the road open for at least 48 days when it would otherwise have closed.
Bear Scotland said it received reports of debris on the A83 at the Rest and Be Thankful at 03:00 on Thursday.
More than 1,000 tonnes of material landed on the carriageway to the east of the area covered by debris fences and "catchpits" which were erected after previous landslides.
Experts believed it was triggered by a landslip in a forested area above the road, after more than 86mm (3in) of rain fell over two days.
The road was closed and drivers were initially advised to follow a 60-mile diversion.
At 11:00 the Old Military Road, which runs parallel to the A83, was opened to motorists as a diversion following a safety inspection.
A convoy system is in place and Bear said it would be open round-the-clock "subject to weather conditions".
Drivers are also being advised that ferry options are also available via Western and CalMac Ferries.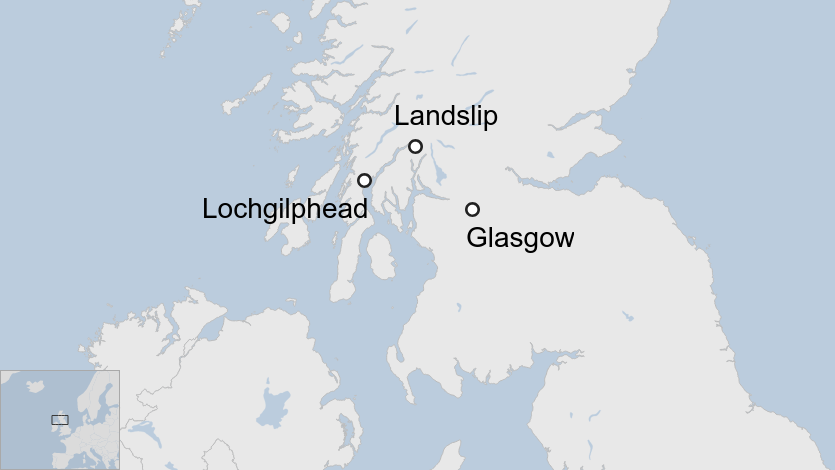 The A83 connects the Central Belt, via the A82 from Glasgow, to the Kintyre peninsula, all the way down to Campbeltown.
The road, which starts in Tarbet on the banks of Loch Lomond, is almost 100 miles long.
The Rest and Be Thankful is a pass about 10 miles from Tarbet between Glen Kinglas from Glen Croe.